Deploy and manage the virtual private servers in your IDrive® Compute account from the web console.
Information Included in the Article
IDrive® Compute
IDrive® Compute is a reliable and fast-performing edge computing solution with multiple edge regions around the globe. Businesses can use the compute infrastructure of powerful physical servers and robust hardware resources, managed off-premise, to host NVMe-powered instances.
You can create and manage multiple virtual machines, run projects of any size with minimal latency, enable scheduled backup for the instances, take snapshots in real-time, and attach more space to them with block storage volumes - all from a centralized web console.
Supported Distributions
IDrive® Compute supports the following standard distributions of the 64-bit Linux operating system:
| Distributions | Versions |
| --- | --- |
| Rocky Linux | 9.0, 8.5, 8.4 |
| Alma Linux | 9.0, 8.0 |
| CentOS | Stream 9, Stream 8, 7.8 |
| Ubuntu | 22.04 LTS, 20.04 LTS, 18.04 LTS, 16.04 LTS |
| Fedora | 36, 35, 34 |
| openSUSE Leap | 15.2, 15.1 |
| Debian | 11, 10, 9.0 |
Accessing and Managing IDrive® Compute
IDrive® Compute is a web-based application. You can securely access and manage your IDrive® Compute account from anywhere in the world over the web, with just an active Internet connection. Sign in to its centralized web interface from any supported browser and easily create, access, and manage virtual instances from wherever you are.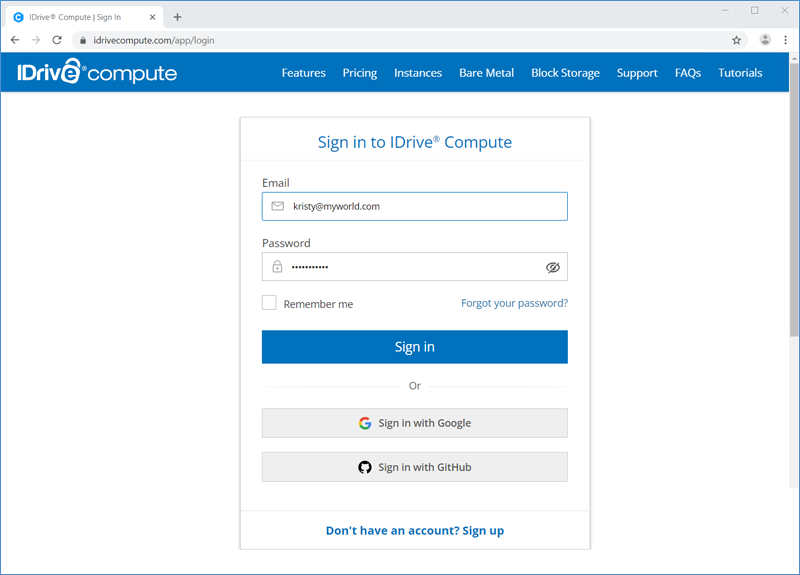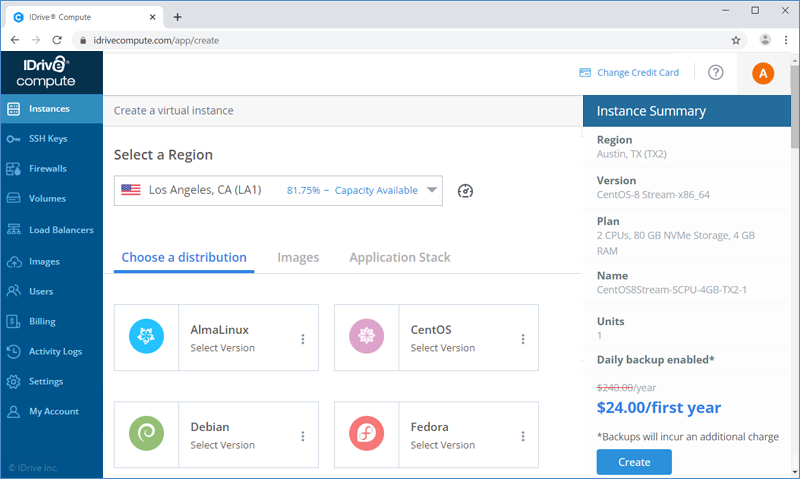 Securing IDrive® Compute Instance
IDrive® Compute web console provides several security features for the safe processing of your critical business data and personal information. Implement SSH key-based authentication, optional root login, and firewalls to control network traffic while configuring the VPS infrastructure.
IDrive® Compute's Data center Regions
A data center is a physical facility comprised of networked computers, storage units, and computing infrastructure. Organizations use data centers to store and process large amounts of critical data.
IDrive® Compute's data centers are hosted at 25 locations.

Following are the data center regions:
Miami, FL (MIA1)

Los Angeles, CA (LA3)

Portland, OR (PDX1)

San Jose, CA (SFO1)

Las Vegas, NV (LV1)

Dallas, TX (TX1)

Austin, TX (TX2)

Houston, TX (TX3)

Seattle, WA (SEA1)

Secaucus, NJ (NJ1)

Charlotte, NC (NC1)

Denver, CO (CO1)

Phoenix, AZ (PX1)

Detroit, MI (MI1)

Atlanta, GA (ATL1)

Chicago, IL (ORD1)

New York, NY (NYC1)

Boston, MA (BOS1)

Philadelphia, PA (PA1)

Reston, VA (VA1)

Dublin, IRL (DUB1)

Amsterdam, NL (AMS1)

Madrid, ES (MAD1)

London, UK (LHR1)

Frankfurt, DE (FRA1)
Note: You can run a network speed test to choose the best location for your instances.