Subscribe to IDrive® Compute's yearly plans and save on your cloud computing costs.
Information Included in the Article:
Billing Options at IDrive® Compute
At IDrive® Compute, you can choose between a postpaid monthly billing cycle and a prepaid yearly billing cycle. For yearly plans, you will be charged at the time of generating the instances; and the instances, as well as the billing, will be renewed at the end of the period. For monthly subscriptions, an invoice for the services and resources utilized the previous month is auto-generated at the beginning of each month, and you will be billed automatically via your preferred payment method.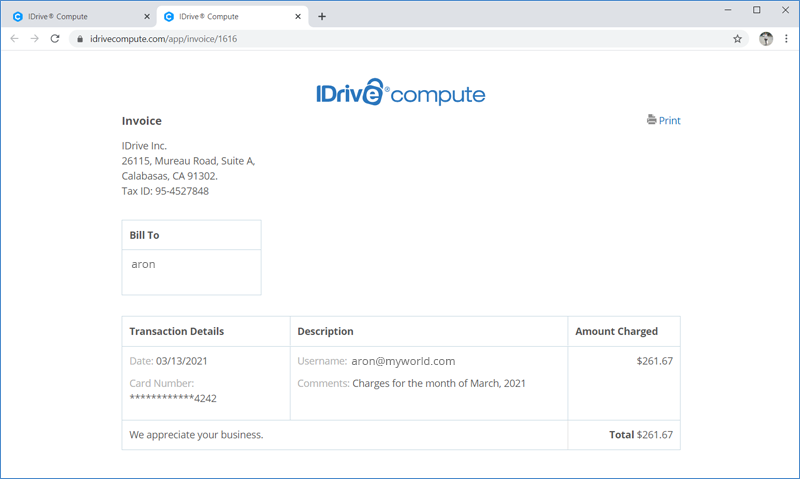 Billing of Monthly Plans
At IDrive® Compute, you can opt for a postpaid monthly plan for your instances and resources. The bill for the monthly plans is generated at the beginning of the next cycle, based on the resources and services used during the previous billing cycle.
Billing of Yearly Plans
You can opt for IDrive® Compute's prepaid annual plans for your instances. When you sign up for a yearly plan, you'll be charged for it using the payment method you specified when you created the instance. After the period, the instance will be renewed using the same payment method. Annual plans are only available for instances. Resources are invoiced at the end of every monthly cycle only.
Additional Pricing for Resources
Resources such as images (snapshots, backups, custom images), block storage volumes, compute instance backup and bandwidth usage are charged in addition to your instances. Refer to the following table for their pricing:
Name
Pricing

Backup

$0.05

/GB / Month

Snapshots

$0.05

/GB / Month

Custom Images

$0.05

/GB / Month

Volumes

$0.10

/GB / Month

Volume Backup

$0.10

/GB / Month

IPv4 Address

$2

/Month
Regardless of your instance billing cycle (monthly/yearly), resources are charged at the end of the monthly billing cycle. You can view your billing summary under User > My Account > Billing History > Summary.
Minimum Charges for IDrive® Compute Usage
If the relevant use charge for any resource (instance, image <backup, snapshot, custom image> and volume) is less than $0.01, your IDrive® Compute resources will incur a minimum fee of $0.01.
For example, a $5/month instance ($0.0074/hour) will cost $0.0074 if utilized for an hour (billed by hourly charges). It will, however, be invoiced at the $0.01 minimum applicable usage fee.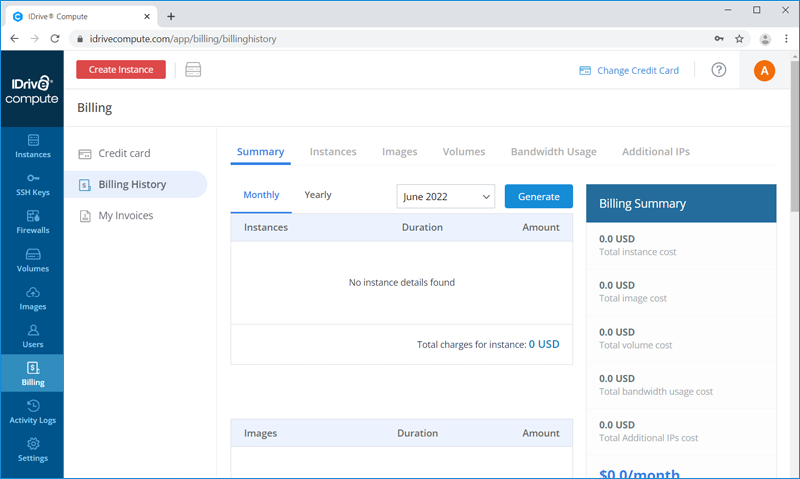 Hourly Billing Cycle for Resources
In the event of hourly pricing, all resources (instance, image, <backup, snapshot, and custom image>, volume) in IDrive® Compute are invoiced with a maximum of 672 hours (28 days * 24 hours). This ensures that you are never charged more than the cost of your resources monthly.
You will be charged as per the number of hours if you utilize the resource for fewer than 672 hours in a month. If you use a resource for more than 672 hours in a month, you will be charged the resource's monthly rate.
Overage Fees for Extra Bandwidth Expenditure
If you have exhausted all of your network transfer pool's cumulative available bandwidth, you will be charged $0.01 per extra GB utilized at the conclusion of your billing month.
To illustrate, creating two instances with 1 TB network bandwidth each for a month will result in a total allotted transfer amount of 2 TB. If you transmit less than 2TB of data from both instances, you will not be charged overages because you are within the overall transfer limit. However, if you go over your cumulative transfer limit, you'll be charged $0.01 for every extra GB you use.
Access the Billing History of IDrive® Compute Account
Follow these steps to view the detailed billing history for your account:
Sign in to your IDrive® Compute account.

Under the

Username Icon

on the top-right corner, click

My Account.

Go to

Billing History.



Under billing history, you can access the following information:
Summary

- Gives complete detail of all billing transactions through your account.

Instances

- Access the detailed costing for the instances in your account.

Images

- Find the relevant pricing for the images in your account.

Volumes

- View the charges specifically for the volumes in your account.

Bandwidth Usage

- View the concise bandwidth usage details for your account. You can also find the bandwidth utilized and remaining for the current month.

Additional IPs

- Gives detailed pricing and charges of the additional IPs for all the instances under your account.
Billing History for the Renamed Resources
The billing history for renamed resources will continue to be generated under the original name used during resource creation.
To illustrate, if you have created an instance named 'Instance A', and over the course of time have changed its name to 'Instance B', the charges for the instance will continue to be listed as Instance A.